WHAT IS POLI PAYMENT AND WHY YOU SHOULD USE THEM?
POLi Payments Pty Ltd is an online payments company based in Melbourne, Australia.
It is the developer and provider of POLi, an online payment system that is used by merchants and customers in Australia and New Zealand. POLi Payments has been acquired by SecurePay Holdings, a fully owned subsidiary of Australia Post.


As Paypal moves away from the Electronic Cigarettes industry, we offer alternative payment solution that is safe and secured, tried and tested in the respective market in where we have a retail presence. POLI is an internet banking you can use when you order on our Australian Website, www.hiliqau.com.
HOW TO PAY VIA POLI PAYMENT?
Step 1:

Select POLI as your Payment Method
Add all the Items you want to your cart and select POLI as your payment method at the checkout. Select "Place Order" after double-checking your Order Summary.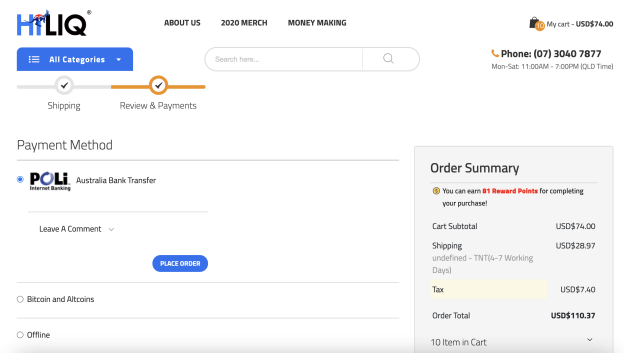 Step 2:

Wait to be redirected
Please do not close or leave your browser while you are being redirected to POLIpayment's secured payment gateway.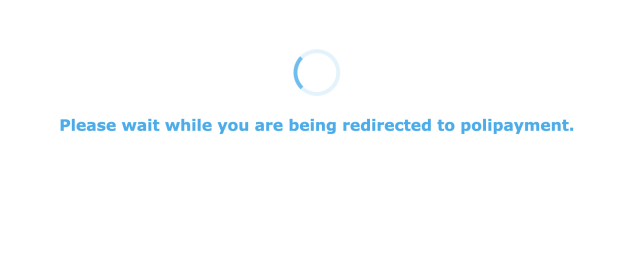 Select the bank you want to use. You should have an account with the bank of your choice. There are plenty of Australian bank available. Click "Continue" in the Red Box to proceed.
Please note that our POLIpayment is powered by Payssion. The amount charged may be in your currency AUD while the amount we will receive is in USD.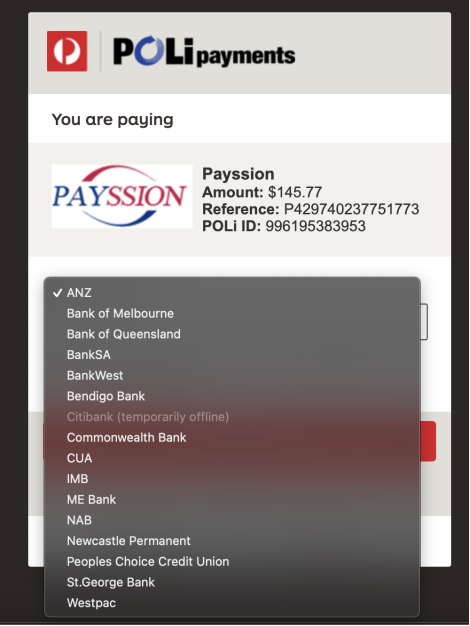 Step 4:

Log in your Credentials
Simply add your CRN and Password or your Bank Log-In Information and Pay the amount accordingly.
Note: Please do not worry to log in as this is a secured third party gateway trusted in Australia.
You will see this "lock" icon

our our site and on the Payment Gateway to signal your data is safe and protected